Reflash Module for select Interfaces
The re-flash module allows you to update the firmware of a Scosche Interface, via Windows based PC.
RFM is available to buy in increments of 1
Reflash Module Windows Update
Features
The Scosche updater can be downloaded here.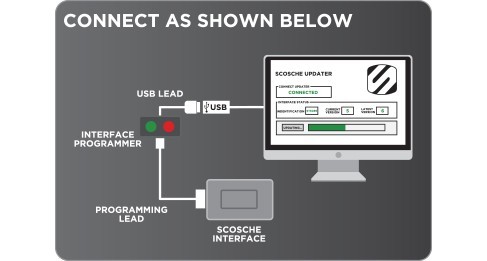 For Select Interfaces
DDR-GM01 DDR-GM02 DDR-VW01 AI01SR BW01SR BW02AR FD01SR FT01SR GM27SR HA01SR KA01AR MA01SR MA02SR MI01AR MZ01SR MZ02AR PE01SR TA08AR VW08SR VW09SR VWSWC1 VW09SR VWSWC1 BWSWC1 HDSWC1 NNSWC1 SUSWC1 USWCA & USWCC

NOTE: This software is only Windows compatible and WILL NOT work with any other operating systems. A USB A/B(Printer Cable) is required to connect the Scosche re-flasher to your computer.